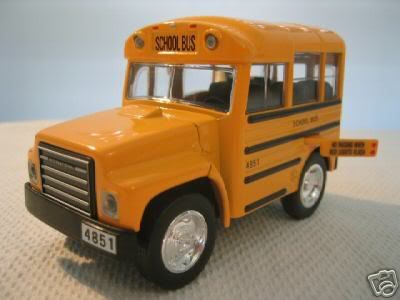 At the request of my boss and my boss' boss' boss, I just spent the last 30 minutes scouring the internet for a diecast model of a Short Bus. As a dutiful, responsible employee (ha, hahahahaa), I sifted through countless webpages for jam bands called "Shortbus" or some derivation thereof, and finally
completed the task
. I will be patiently awaiting my promotion and raise in hourly wages.
This little assignment reminds me of one of the first blogs I ever read (a tear...), The Tard Blog. Www.tardblog.com (how am I supposed to capitalize that?) has apparently been taken down because I guess for some ungodly reason a few people found it offensive. Well,
someone has mirrored it
for you to enjoy in its glorious, hell-in-a-handbasket entirety.